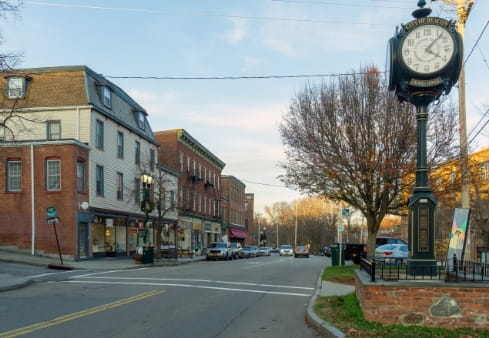 Artistic History of The Lofts in the Heart of Beacon, NY
---
Foster Relationships, Curate Gatherings, & Enjoy Antiquity
In 1876 New York City dry good magnate A.T. Stewart acquired the property, originally an oak grove for picnicking and also the site of several earlier grist and fulling mills. Stewart constructed a modern carpet mill and worker community consisting of several rows of sturdy brick houses. The Groveville Carpet Mill complex employed over 700 people in the 1880s, but the carpet works closed on the eve of the Panic of 1893 and relocated to Yonkers, NY.
Subsequent early to mid-twentieth-century tenants included the Glenham Embroidery Works in 1913, Beacon Bronze Co. in 1922, Beacon Piece Dyeing Co. and Beacon Rayon Fabrics Co. in 1935, Groveville Furniture Co. in 1937 and Lewittes Furniture Co. in 1939. In the 1970s the property was once again used to produce carpets, but then went vacant until 1997. The current owners purchased the complex in 2012 and began renovating and restoring this diamond in the rough.
Notable features of the mill complex include the freestanding gate office building, a surviving row of unusual individual trap door/sawtooth roof monitors on one of building the buildings, the intact and occupied worker housing, and the active hydroelectric dam.The Groveville Mill Dam is a modern inclined concrete spillway dam and headworks and is the tallest on Fishkill Creek. The dam is a component of a small operating hydroelectric generating facility that provides water to generators housed in the mill's historic brick wheelhouse building.
The former management building is now Beacon Lofts & Storage, with 200 temperature-controlled units available to rent. The ground floor is now the main office, providing gallery and community meeting space.